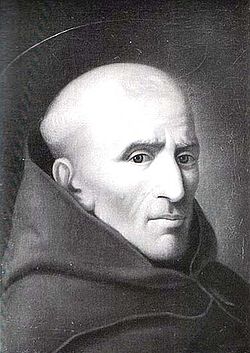 I've recently learned about a beautiful saint: St. Leonard of Port Maurice (1676-1751) He was a famous Franciscan preacher. I was reading one of his sermon and came across that fantastic quote that "positions" the Catholic doctrine of salvation between Luther/Calvin's divine monergism on one hand and Pelagianism human monergism on the other hand. Here is what Saint Leonard preaches to us:
Before going on, let us gather on one side all the books and all the heresies of Luther and Calvin, and on the other side the books and heresies of the Pelagians and Semi-Pelagians, and let us burn them. Some destroy grace, others freedom, and all are filled with errors; so let us cast them into the fire. All the damned bear upon their brow the oracle of the Prophet Hosea, "Thy damnation comes from thee," so that they may understand that whoever is damned, is damned by his own malice and because he wants to be damned.
I don't think that St. Leonard is calling for a book burning, yet the mental image is quite appropriate: the Catholic rejects those who deny grace and those who deny human free will.
By the way, I've recorded some things about
the Catholic position on justification here
.