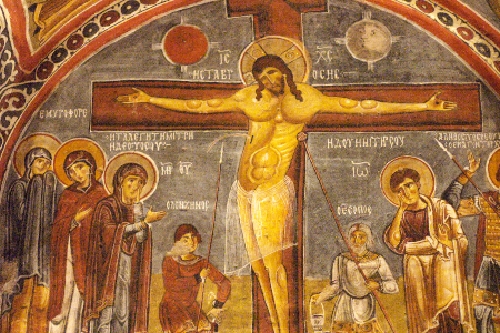 This morning in the Office of Readings, there was a powerful passage regarding the efficacy of baptism. Even more, it demonstrates that baptism introduces us into the sufferings of Christ.
Let no one imagine that baptism consists only in the forgiveness of sins and in the grace of adoption. Our baptism is not like the baptism of John, which conferred only the forgiveness of sins. We know perfectly well that baptism, besides washing away our sins and bringing us the gift of the Holy Spirit, is a symbol of the sufferings of Christ. This is why Paul exclaims: Do you not know that when we were baptised into Christ Jesus we were, by that very action, sharing in his death? By baptism we went with him into the tomb.
As Saint Josemaria Escriva would say:
In laetitia nulla dies
sine cruce
("there is not day in joy without the cross").
As a Catholic, I'm learning that the cross isn't merely sorrowful, but it is the wellspring of joy. Denying yourself, far from depleting the spirit, actually brings about renovation. "Blessed are the poor in spirit." In the wisdom of the Church, Lent prepares us to carry this truth with us during the octave week of Easter. Easter is not the turning away from the cross in favor of the resurrection. Rather, it is a deeper embrace of the cross...with its power!
Christus resurrexit sicut dixit! Alleluia!
- Taylor