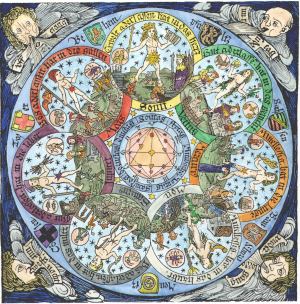 The seven days of the week are named after the seven "moving stars" of the heavens visible to the naked eye:
dies Solis (Sun)
dies Lunae (Moon)
dies Martis (Mars)
dies Mercurĭi (Mercury)
dies Jovis (Jupiter)
dies Venĕris (Venus)
dies Saturni (Saturn)
How did these associations come to be? Well, it actually goes back to the domination of each hour of the day by one of the "seven moving stars" by order of how far each one is from the planet earth. The Greek Stoics established this order correctly and it provided the template. The Babylonians before them likely new of the order but the Greek Stoics confirmed the template:
Saturn, Jupiter, Mars, Sun, Venus, Mercury, Moon
Notice these do not correspond to the order of the days of the week. What's up with that?

Well, it is quite remarkable. We must return to the domination of each hour of the day by a certain star. The first hour of a day is dominated by Saturn, the second hour is dominated by Jupiter, the third by Mars, etc.

If you trace this out, you find that the 25th hour (the first hour of the new day) is the Sun.

Do it again and the 49th hour (the first hour of the second day) is marked by the Moon.

Do it again and the 73rd hour (the first hour third day) is marked by Mars.

You just keep doing this and the cycle spits out this order: Sunday, Moonday, Marsday, Mercuryday, Jupiterday, Venusday, and Saturday. A perfect match.

What does this mean for Christians. It means that the seven day week is mapped out in the cosmos. The seven day week is not an accident of history. Even pagans understood it as having a significant meaning. Genesis one says that the heavenly bodies are "regents" over day and night and so we should not be surprised that the cosmos is a divine clock that marks time properly.

The shifting of liturgical worship form Saturday to Sunday is also another sign of the New Creation. The Sabbath day is associated with Saturn, the "moving star" furthest from our planet. Saturn is eschatological because it is both last in order and farthest from our planet. However, in the New Testament, the day of the Sun becomes the chief day of worship because Christ rose on Sunday. The Sun is also the warmest and brightest of the "seven moving stars". The sun establishes the year and marks the four season. It is no surprise then that the "day of the Sun" surpasses the "day of Saturn" with the incarnation of Christ. It marks the New Creation, the New Heavens, and the New Earth.