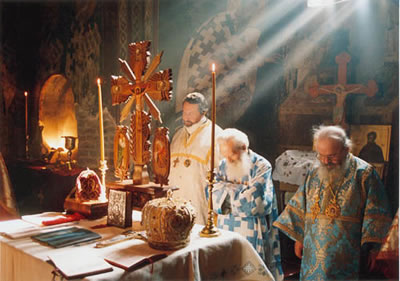 Today I received the Holy Eucharist at Holy Transfiguration Melkite Catholic Church. They have had an Middle Eastern ethnic festival all weekend. Lots of fun for the kids. Great food. I had farfelle today and a lamb pita sandwich yesterday. Meat pies and eggplant. And a wonderful little pistachio pastry.
But the best part was receiving Christ in the Divine Liturgy of St John Chrysostom. Very beautiful. It was interesting to see the blend of Arabic and Greek in the iconography. As I understand it, Arabic is the liturgical language of the Melkites. There was, however, little if any Arabic. I think I heard some at the end.
Afterward, I was reflecting on the experience. Since converting to the Holy Catholic Church in May, I have received Holy Communion in the Anglican Use Mass, the Divine Liturgy, and the Roman Rite. Catholicism under the Petrine Office is truly universal.
As an Anglican we often spoke of the "Branch Theory" which held that the true Catholic Church was found in the three "branches" of Christendom, Anglicanism, Roman Catholicism, and Eastern Orthodoxy. This is obviously a false theory because the Church is necessarily and visibly one and united at the altar.
But the desire expressed by those who idealize the Branch Theory can truly be found in union with the Holy See of Rome. All three liturgies are practiced. You can enjoy the best of Anglican, Byzantine, and Roman expressions.